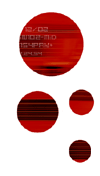 RESONANCES NIGHT AT GLAZ'ART
In collaboration with Arslonga and the Royal Netherlands Embassy, the Parisian concert venue Glaz'art will present four electronic live performances.

Date : Saturday, October 18th 2003, from 10pm until dawn


Venue : Glaz'art, 7-15 avenue de la Porte de la Villette, 75019 Paris


Rates : 12€ (on the spot) ; 13,40€ (Fnac pre-sale)
Program
22:30pm The Generation
The Generation (Barbara Sallé, Romain Kronenberg, David Bichindaritz, Marc Delafin, Jonathan Michel, M.Rosenbaum and Elias Amari) - fado frenchy/experimental noisy. (Guitar, vocals, Max/MSP).
23:30pm Alice
One woman electronic show - direct import of marvelous sounds (Audiosculpt, Modalys, guitar, vocals, machines and tapes).
00:30am Avril
Brilliant outsider of the French electronic music scene and rising star of the famous fcom label. (Electric guitar, vocals, drums, Theremin and software) http://www.fcom.fr
01:30am Eboman
Audio visual dancefloor madness ! The amazing Dutch artist Eboman (Jeroen Hofs) has a vast experience in the area of interactive audio-visual stage productions. He will present his "Sample madnesS" : interactive compositions with audiovisual samples. (Max/MSP, Jitter, game interfaces). http://www.samplemadness.nl
02:30am-05:00am Deejay DeKoninck
100% Belgian music blend of jazz, funk & fusion. Dance warranty included.
Non stop Veejay MariLor
Live video stories ; a jungle of pop culture, media and reality "reality is underrated". (Arkaos.Artmatic.metasynth).