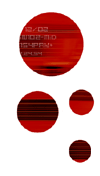 DEMONSTRATION STANDS
The stands will present laboratories, companies and educational organization involved with musical analysis themes and live performance technologies (spatialization, motion capture, synthesis and audio processing, virtual reality...).
Participants : Les Cahiers de l'ACME, eoWave, Arturia, Keyboards, France Telecom.

Date : October 15th-24th, 2003, 12pm-6pm (week) ; 12pm-8pm (weekend)


Venue : Ircam, public spaces


Access conditions : Free entrance

Les Cahiers de l'Acme
Les Cahiers de l'ACME are known as one of the most complete monthly publications with news about music technologies including both computer music and professional audio. Les Cahiers de l'ACME also contain information on festivals and events electroacoustic music. A part from this publication, l'ACME distributes several works in the domain of music, audio and MIDI. In particular educational and professional titles (including Ircam publications) can be consulted at the stand.
Cahiers de l'Acme web site


Stand manager : Paul Snaps

Keyboards Home Studio
Keyboards Home Studio web site


Stand manager : Christophe Martin de Montagu
eoWave
During Resonances, eoWave will be presented on the Ircam stand at Satis (Sound and Image Technologies Exhibition).
eoWave web site


Stand manager : Marc Sirguy

Arturia
Arturia will present its latest software, the CS-80V. The CS-80V is a reproduction of the legendary Yamaha CS-80, which is considered by many as the "ultimate" polyphonic synthesizer. The CS-80V offers the same functionalities as the original machine and extra different innovations such as the Multi mode and a modulation matrix.
Arturia will also present the spectacular Moog Modular V, the reproduction of the mythical modular system of Moog Music.
The CS-80V and the Moog Modular V are based on an ensemble of algorithms gathered under the name TAE®. TAE® stands for "True Analog Emulation". This technology offers an exceptional sound quality for reproduction of analogical circuits. In particular, TAE® allows to avoid any form of aliasing, it simulates the typical instability of electronic oscillators and makes the warmth of the vintage sound.
Arturia web site


Stand manager : Gilles Pommereuil

France Telecom R&D
The Interactions laboratory through the "Parole et les Sons" of France Télécom R&D is in charge of studies on sound signal processing for the applications and services of France Télécom. It has competences marked in vocal technologies (recognition and parole synthesis), in compression for the network transport in sound recording and restitution.
France Telecom web site


Stand manager : Marc Emerit, Yannick Mahieux