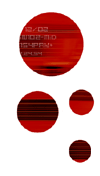 SET THEORY CONCERT
This concert is directly connected with the contents of the conference "Around Set Theory". The program will present two very different pianists : Marilyn Nonken and Dimitri Vassilakis.

Date : Thursday, October 16th, 8:30pm


Venue : Ircam, Espace de projection


Ticket rates
Marilyn Nonken is known in New York as one of the top specialists in contemporary music. She stroked up close relationships with Milton Babbitt and young composers such as Paul Nauert and Jason Eckhardt.
Dimitri Vassilakis, soloist of the Ensemble Intercontemporain, is more familiar with the European repertoire. For example : "Modes de valeurs et d'intensité", a key work, will be played by both of the performers.
PROGRAM
Performer : Marilyn Nonken, piano

Milton Babbitt : Allegro Penseroso, Partitions, Post-Partitions


Paul Nauert : A Collection of Caprices


Jason Eckardt : Echoes' White Veil


Olivier Messiaen : Mode de valeurs et d'intensités
Performer : Dimitri Vassilakis, piano

Olivier Messiaen : Mode de valeurs et d'intensités


Pierre Boulez : Douze notations


Iannis Xenakis : Mists


André Riotte : Inventions n° 1, 6, 7, 10, 11, 12, 13, 17
An Ircam-Centre Pompidou production.