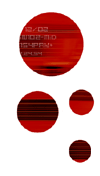 Benjamin Thigpen
Musical Assistant of Ircam Pedagogy Department
Studied music (saxophone, flute, guitar, oboe), literature and philosophy. Degrees : B.A. in English Literature (Oberlin College, 1982) ; M.A. in Comparative Literature (UCLA, 1990) ; D.E.A. in Aesthetics, Technologies and Artistic Creations (University of Paris VIII, 1998). One day in Chicago (1985) : first electroacoustic experiments with three cassette recorders. After : studies in recording techniques, sound synthesis, composition, aesthetics, electroacoustics, and computer music (Elaine Barkin, Samuel Weber, Christian Eloy, Jacques Lejeune, Curtis Roads, Julio Estrada, Horacio Vaggione).
Electroacoustic compositions performed in concert and on radio in Europe, North and South America, Australia and New Zealand, as well as on the web. "dust" was awarded a mention in the preselection of the competition Prix Noroit 1997, as well as in the competition Musica Nova 1998. "step, under" was awarded a mention in the competition Métamorphoses 2000. "h" (1995) is available on the CD "Acousmatica I" (distributed by Metamkine) as well as on the CD "Florida Electroacoustic Music Festival CD Series, Vol. 1" (distributed by EMF, to be released) ; an excerpt of "step, under" (1998) is included on the CD "Présence II" (distributed by Diffusion i Média).
Currently teaching sound processing and real time systems (Max/MSP) at Ircam.
Participation during Resonances 2003 :

Cursus Concerts